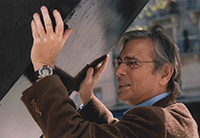 Teaching and Mediating a Sustainability Science

André Giordan

Abstract of a présentation to




Text in the proceedings of this Symposium
Today Education for Sustainable Development is not, if indeed it ever has been, just one "thematic" biological education among many. It is a vital and basic education for the contemporary world, a primary feature of global education with the widespread vocation of being a place of freedom that induces involvement and the desire to change the problematic situations.
Education for Sustainable Development invites us to reconsider and restore our biological education. Biologists have an essential role to play, but it is necessary to analyze the nature of their role carefully. Biological education is important, but increasingly, improving knowledge about the issues is not the only way in which ideas, problems and questions should be addressed. At the light of the past innovations and evaluations, the presentation will explore the diversity of approaches, strategies and possible themes. New models of learning will have to be promoted.
Two points are crucial if Education for Sustainable Development is to make progress in the world. The first is intensifying research on biological education:
research as a support for changing biology school curricula,
research on what the general public and students believe, on the perception/knowledge and awareness of the environment;
research as a tool to identify the appropriate methodological choices for effective and pertinent education, specially on implementing systemic analyze, pragmatics and ethical ways.
The second is training the biological trainers. Training the trainers is a crucial point for effective/efficacious dissemination of sustainable development education. By trainers we do not only mean teachers of biology. Particular attention must also be given to those who work in lifelong/lifewide learning: educators working in associations and cooperatives, people working in museums and other places of knowledge, heads of companies, media consultants, journalists and other experts who manage training programs, etc. Different tools and resources will be presented to this end.